I can't believe how quickly the summer flew by! It's still super hot out, but we are already less than a week away from the first day of school! I loved the excitement of going back to school and want to share it with my kids, especially since my youngest is starting school this year! (I'm not crying, I just have something in both my eyes…) Since I was researching fun traditions and ideas to do with them, I thought I'd share them with you too! So here are ten first day of school traditions that you should start with your kids this year! 
How could I not start the list with this? I created them for my kids last week and they've been marching around the house with them (which means I'll need to print out new ones when they actually start school! 😉 These colorful pennants from our shop have text that can be edited by you, so you can use them for any grade (even college, but I can't think that far yet!) and reuse them year after year! They come in 8 fun color combinations with more on the way!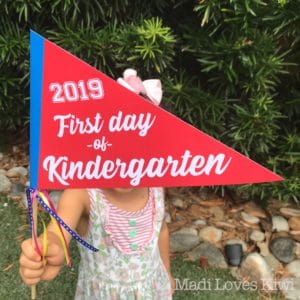 I love this genius idea by Studio DIY that turns simple balloons into bright red apples! Check out their simple tutorial and surprise your kids with a bunch of your own!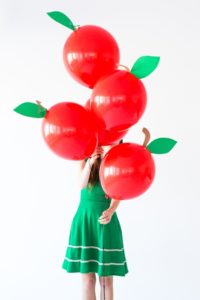 What a fun way to show how your child has grown over the years, and when they graduate from high school, they will have a cool keepsake shirt!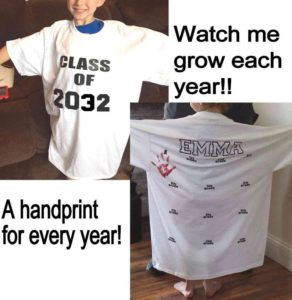 From building blocks to wooden trains to video games to sports cars, this memory book will capture all your children's favorites so they can look back with nostalgia!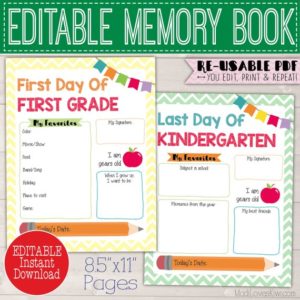 I love the way kids talk and this idea will let you relive this moment over and over! You can ask your kids anything in the interview, but What's Up Fagans gives you great tips plus a free printable list of questions (that I am printing this very second!).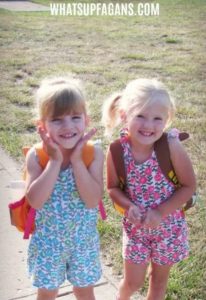 These scrumptious waffles not only look like apples, but there's grated apple inside to give your kids some extra energy on their first day of school!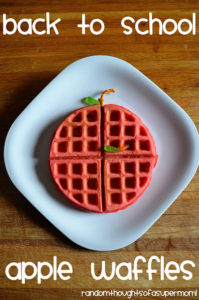 Get silly with your kids and record their dream jobs and beautiful smiles with a patch of concrete and some colored chalk!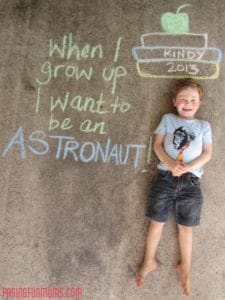 Make a big statement with these huge pencil and crayon photo props! They are editable so you can make one for each of your kids and fun to send to school in case your teacher wants to take some class pictures too!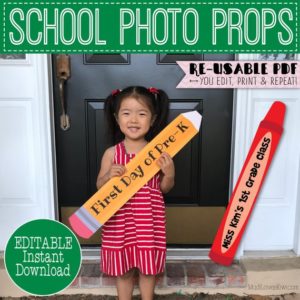 This 200 year old German tradition helps make the first day of school a little sweeter for kids! This post explains how to make one and then just fill it with fun school supplies, sweet treats, and little trinkets!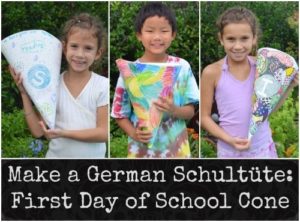 These printable chalkboard signs are easy to edit and print at home or any copy shop, plus they can be used for the first and last day of school! 
I hope you got some fun ideas from this post! Don't forget to PIN it to your board for quick reference and share with a friend who also has kids starting school soon! 
Happy back to school y'all!
xoxo,
Lily